Football is a game of two halves. One half love it and the other half – well not so much.
For those of you lucky enough to be visiting the Algarve during the 2018 FIFA World Cup, you may be worried about missing some of the games (albeit in return for the sun and epic holiday-based activities) but have no fear!
There are lots of great places to watch the World Cup with a cold beer or glass of sangria. For those who saw your holiday as a well-timed opportunity to avoid the World Cup, well you can do that too. Here are just a few suggestions of fantastic places to watch the big games for the football fans, plus a few ideal ways of avoiding them for the football bans (see what we did there).
Swing and don't miss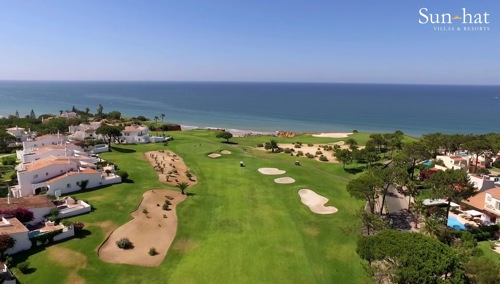 As most of the games will have afternoon kick offs, it's not a bad idea to get yourself in the sporting mood by treating yourself to a round of golf beforehand. Most of the clubhouses near our villas will be showing the games so there's every excuse to merge the two loves of your live – golf and football – the perfect holiday! Alternatively, if you hope to miss the beautiful game, why not just keep playing golf and get that handicap down.
© The Cheeky Pup


An Irish Gastropub run by a young and friendly team. Alongside cheering on or against Lionel Messi, you are invited to 'lick your chops' and tuck into dishes such as homemade meatballs or a cheeky Pup cheese burger followed by orange and almond cake. There is a beautiful large covered outdoor area and, for those who want to sample the menu but avoid the football, there are areas where you can hide from the TVs (can't promise you won't be able to hear the fans though!).
Hit the beach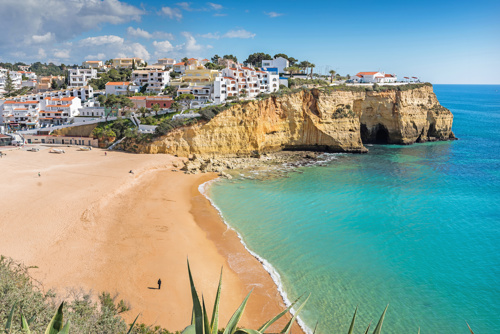 If you want to keep up-to-date with the score but don't want to miss precious sunbathing time, have no fear, there are numerous beach-bars right across the Algarve and most will be showing the games. Giving you the chance to jump up off your sun longer, watch the big matches and then return for a dip in the sea – or to finish off building that sandcastle – whatever takes your fancy. It is likely the beach will be a lot less crowded while the football is on which is perfect for those who are staying put – you can have the best waves all to yourself.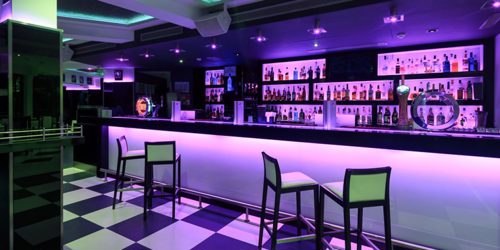 © Shelsian Lda
Right in the heart of bustling Praça, where you are already spoilt for choice. Monty's is a great venue to cheer on Gareth Southgate's boys. Perfect for fans and avoiders alike, this is a great family venue and has kids entertainment to keep the little ones busy, alongside live sports broadcasts, live music and a mouth watering international menu boasting dishes such as salt and pepper chilli squid, smokey BBQ ribs and sticky toffee pudding.
The Melting Pot, Quinta Do Lago
© Edsel Little, Flickr


Those who visit avoid recommending this place, opting to keep this great venue a secret. The bar opens a little later in the afternoon so perfect for the evening games. This stylish pub has a vibrant Moroccan theme and a lovely outside seating area. Ask for the Piri Piri chicken and any of the cocktails! As this is based at Quintana Shopping, football avoiders can hit the designer shops and quirky boutiques, perfect for spending your hard earned money or just window shopping.
Oh go on, why not just get stuck in!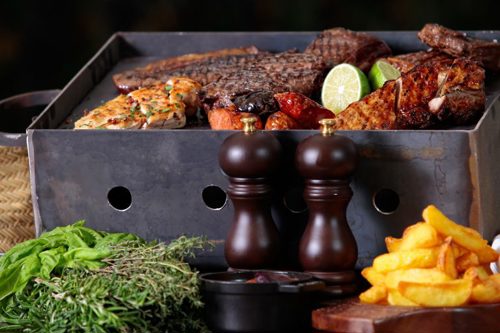 © The Parrila Natural Algarve
If you can't beat 'em join 'em. For the most steadfast football avoiders it's hard to admit that sometimes you can't help but get carried away with World Cup Fever, particularly if your national team is doing really well (Come on Harry Kane!). Our old favourite restaurants such as Parrila Natural and Restaurant O Tanque will be showing the games on TV – great for the evening kick offs. Vilamoura Marina is also a really popular destination for those looking to watch a match and with fun bars such as Figo's bar; Sete 7, The Brewery, 19th Hole, and Atlantic Bar, there are lots of options to put a temporary hold on your football ban and cheer along your favourite players.
To complete your stay in Portugal's south west, take a look at our stunning portfolio of luxury Algarve villas.