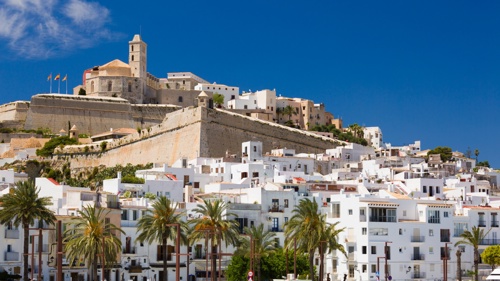 With summer now in full swing, it's time to adventure out on a well-deserved getaway, and where better to go than the beautiful island of Ibiza?
Located within the Mediterranean Sea just off the east coast of Spain, this gorgeous island is sure to suit anyone looking for sun, sea, and a relaxing break. Although it is known for its VIP clubs, vibrant bars, and general student-friendly attractions, Ibiza isn't solely a 'party destination', but also a place of fantastic culture as it celebrates numerous Patron Saint days and holds fantastic festivals in their honour.
Although these festivals occur throughout the year, the summer especially is a fantastic time to witness some of the most brilliant festivities. So if you're intrigued by the promise of a holiday full of celebration and excitement, without the worry of being surrounded by party-seeking students, take a look at our suggestions below to see which extraordinary celebrations are happening this time of year:
16 July – Our Lady of Mount Carmel
Known as either 'Virgen del Carmen' or 'Nuestra Señora del Carmen' in Catalan, 16 July celebrates the figure known as the Virgin of Carmen, one of the many manifestations of the Virgin Mary. This particular image is most adopted by sailors, and fishermen, as their patron saint, and a procession through Ibiza Town in which the image of the Virgin of Carmen is carried through the streets to the sea.
There, the figure is placed on a boat, and set afloat, out into sea alongside colourful flags and flowers, as well as boats which fill the harbour. There are also concerts, feasts, and beach parties to mark the occasion.
Such celebrations are not just limited to Ibiza Town however, the seaside town of Portinatx is also known for its wonderful celebrations on this particular holiday, as numerous boats lay wreaths at sea. All of this is followed, of course, by a fantastic fireworks display. A colourful and joyous fiesta throughout Ibiza, suitable for both adults, and children, this is an event you will not want to miss!
8 August – Day of the Virgin
If you want to see even more fireworks, 8 August is a time for you. A religious honouring of Nuestra Señora de las Nieves (Our Lady of the Snows) begins on the 5th, but continues until the 8th when San Ciriaco, the patron saint of the Island, is celebrated on the day of the Catalan conquest of Ibiza.
Following midday mass at Ibiza Old Town's Cathedral, celebrations including processions of people in traditional dress, festivities, and theatrical performances, continue into the streets of Ibiza Town and Dalt Vila.
Celebrations conclude with a magnificent feast in Puig des Molins, and a fantastic midnight fireworks show that you will not want to miss. It may mean a late night for any little ones, but it is a display certainly worthy staying up for - plus a late night hopefully means they sleep in the following morning.
24 August – Fiesta of San Bartolome
A night of traditional folk dancing, the Fiesta of San Bartolome is perhaps the most fervently celebrated fiesta in San Antonio. Alongside traditional dances, the festival also includes live music, street processions, and yet another spectacular fireworks display.
This is only a selection of the many patron saint celebrations held throughout the year and no matter at which point in the summer you're planning on adventuring to this culture-rich island, it's certainly worth seeing at least one of these amazing festivals should you get a chance!
So what are you waiting for? Head to this sunny island and prepare to experience a holiday full of beautiful sunshine, crystal clear waters, wonderful food, and fantastic festivals.
Explore our stunning villas in Ibiza and the White Isle might just be your next holiday destination...