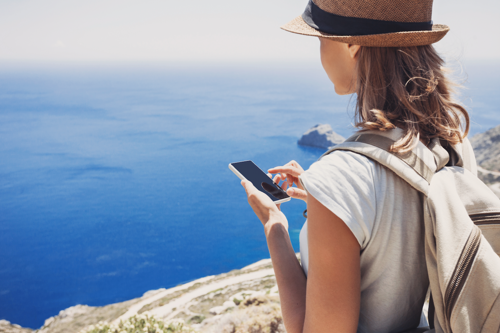 There's nothing we enjoy more than jetting off abroad and indulging in some much needed relaxation. But with endless amounts of things to plan for and discover, it can be worthwhile to organise a couple of things before you arrive!
There's a huge selection of clever travel apps available at your fingertips that have been brought out to make your next venture a little easier.
Sun-hat's travel expert Claudia Mansi, has collected some of her top picks, so you can get the most out of your next trip.
Baggage – Packing List
We can't think of anything worse than forgetting any of our much loved and needed essentials at home before we jet off. To get your hands on your tailor made packing list, all you need to do is fill out a few details about your trip; it can even be shared with anyone travelling with you.
Price – free, but contains ads.
Holiday Extras
To save rushing around and getting stuck in unpredictable traffic, it can be a wise idea to stay at the airport the night before an early morning flight. This app will show you a whole host of deals on parking and hotels at airports across the country. Why not try not out the airport lounge to really get yourself in the holiday mood?
Price – free.
Navmii
Navmii has been designed to let holidaymakers easily find their way around their chosen destination. It is available in over 150 countries and combines live traffic information, points of interest, local searches and voice-guided navigation.
Price – free, but contains ads and some in-app purchases. It can even be used without the Internet, as offline maps can be stored locally.
TripCase – Travel Organiser
Store all the details about your trip in one place using TripCase; you are able to include hotel bookings, flight information and car reservations, as well as getting live flight updates. Everything can be shared with others on the app and it will update them on your behalf accordingly.
Price – free, but contains some in-app purchases.
Translator gives users access to instant text and voice translation for up to 100 languages; this is extremely useful for those wishing to converse in the local dialect, and a excellent learning tool.
Price – free, but contains ads.
World Travel Guide by Triposo
Sometimes it can be a bit tricky to find the places you absolutely must visit and the perfect restaurant to eat at, but Triposo provides users with reviews and recommendations across 50,000 destinations around the world; bookings can also be made through the app. There are also versions available that are tailored to a number of countries including Spain and Portugal.
Price – free, but contains ads and some in-app purchases. The app works offline too, so you won't be surprised by any expensive roaming costs when you return home.
Currency Converter
This simple app provides you with current exchange rates. It works in offline mode too and is great if you're travelling to more than once place, as it lets you convert up to 15 currencies at the same time.
Price – free, but contains ads.
FreePrints – Photos Delivered
Capturing your memories by taking lots of photos is one of the best ways to remember your holiday. Delivered to your door for virtually free, FreePrints lets you order up to 500 photos a year from your phone.
Price – The app and prints are free (up to 45 a month), but standard delivery costs between £1.49 - £3.99.
Countries Been
Countries Been allows travel enthusiast's to highlight all the places they've lived in, been to and would like to go. It even gives you access to the world map, so the world truly is your oyster and you can find out everything you'd like to know about all the countries you'd like to visit, particularly famous sites and attractions.
Price – free, but contains ads and some in-app purchases.
Weather
To make sure you're well prepared and up-to-date with the weather, use the attractively animated Weather app, it's especially handy to check this before you leave, in case there's any changes to the expected conditions.
Price – free, but contains ads and some in-app purchases.
If you're a fan of Beer and fancy uncovering some fantastic ales at local venues and events, then Untapp'd could be for you. Badges can also be collected for sampling different styles of beers.
Price – free.
*All prices and apps correct at time of publication.