In the last decade Croatia has gone from being a secret luxury escape that only the Italians seemed to be in on, to a worldwide bucket-list destination. With a stunning mountainous backdrop and a turquoise coastline, this destination is becoming more popular and more accessible every year. With an increasing number of airlines putting this beautiful country on their roster, and an extended and modernised motorway network, the country is now easily accessible by land, air and sea. What are you waiting for?
One of the things people find quite overwhelming when deciding to go to Croatia is the abundance of choice. Look on any forum or travel chatroom and there is no definitive answer for the best place to go. Everyone knows about Game of Thrones fan favourite and Unesco world heritage site, Dubrovnik, which no one can argue is epic, but it can be said that this destination has more of a city break feel than a laid back holiday destination. With a dash of summer sports thrown in (Croatians take their sport very seriously, especially their water sports with the small country seeing a great success in rowing, sailing and water-polo in the 2016 Olympics) there are also dozens of other activities to enjoy, from rock climbing to sea kayaking.
Alongside the stunning coastline, with pebbled coves, unspoilt nature and pretty much guaranteed sunshine, there is also a lively cultural and historical scene. We've scaled this breath-taking country to find some of the best and most fascinating hamlets, villages and towns and here are some of our favourites:
Svetvinčenat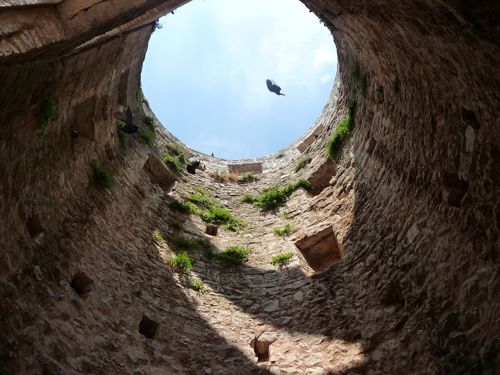 Svetvinčenat is full of attractive historical sites, including the medieval Grimani castle which hosts the increasingly popular Istra Etno Jazz festival. This quaint town, located in south central Istria, is a real gem and starting to boom as a popular tourist destination. With a charming main square hosting various traditional dances, it is also a great foodie spot, with its delicious cheese festival in August becoming the must do event. If cheese isn't your thing, it also hosts a great festival of new wine in late Autumn which showcases some of the best Croatian winemakers. What's not to love?
Poreč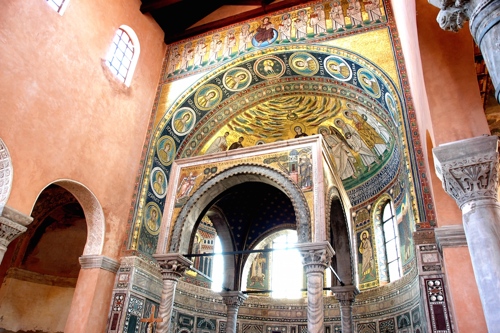 If it's vibrancy you're after, than Poreč is the perfect place to go. This ancient Roman town comes into its own in the summer months. Home to one Europe's finest intact examples of Byzantine art and a world heritage site, the 6th-century Euphrasian Basilica, alongside a plethora of Instagram-worthy gothic and baroque buildings in its historic old town, this resort is a sight-seeing paradise
Umag
Umag not only has great sun-bathing weather, it's also a hop, skip and a jump from Slovenia, perfect for those who like to cross borders to tick off from their bucket list. This area has a very Italian feel and with that comes great restaurants and retail therapy. The Old Town juts out into the Adriatic, offering exceptional views and great seafood.
Umag is another great place for history buffs, with its preserved town walls and towers around the town dating back to the Roman Empire, set nicely alongside the Blue Flag award-winning Marina and gorgeous coastline. Umag is also home to the ATP Croatia Open, taking place this year from 16-22 July 2018. 
Labin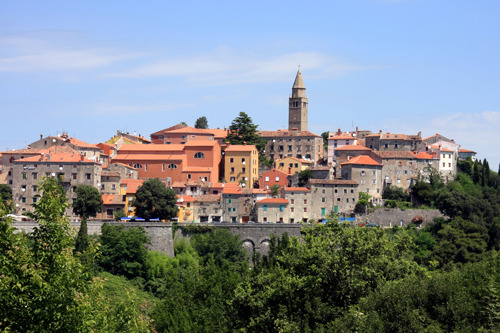 Located in the southeastern region of Istria, Labin hosts a varied calendar of events in the summer, with everything from popular classical music festivals, open air cinemas, eco-friendly markets and street entertainment. Like many towns in Croatia, Labin has a fascinating old town dating from the Middle Ages, with 15th century town gates and exquisite palaces, decorated with Renaissance details and the baroque facades.
You can walk to the top of the old town for stunning views and nearby is a naturally beautiful green cove, and wooded hills great for those holiday snaps. It's nice to drive around the lovely rural villages such as Vrecari; also not to be missed is the nearby resort of Rabac.
Pula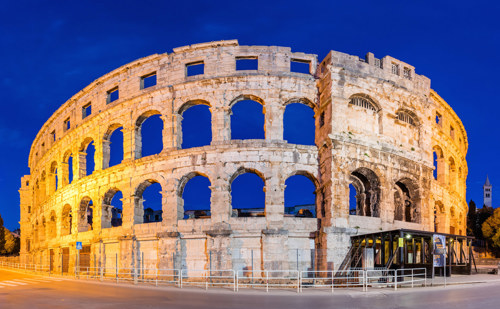 Pula is one of our favourite destinations offering everything from flamboyant festivals such as Outlook Festival, a soulful electronic music event located in an abandoned 19th Century Fort , top notch Italian cuisine and Roman ruins (arguably the best outside of Italy, especially the imposing amphitheatre). Pula is also known for its fine seafood – if you're feeling romantic we highly recommend a stroll along the Limski Canal for restaurants serving the freshest oysters you may ever taste, and very quaffable Malvasia wine and rakija – what more do you need?
Take a look at Sun-hat's selection of luxury villas in Croatia.