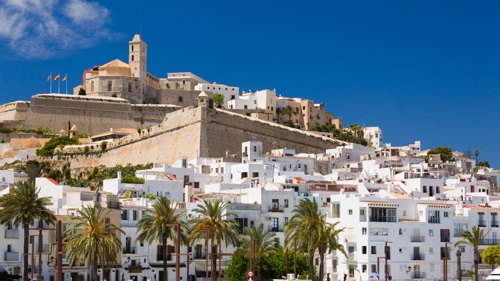 Though known for its lively nights out, all-day discos and beaches filled with sun-seeking students, Ibiza is an understated shining star of culture, history and delicious cuisine – a destination ideal for holidaymakers of all ages who love to roam streets, wander among ancient pavilions and stroll along quiet pebbled beaches.
This corner of the Balearic Islands, flanking the Mediterranean Sea in all its turquoise glory, is the perfect spot for a restful, yet enchanting holiday. So for those wanting to discover another side to this island, we've put together a list of sightseeing activities in Ibiza, that don't involve clubs or midnight-raves.
Mystic Island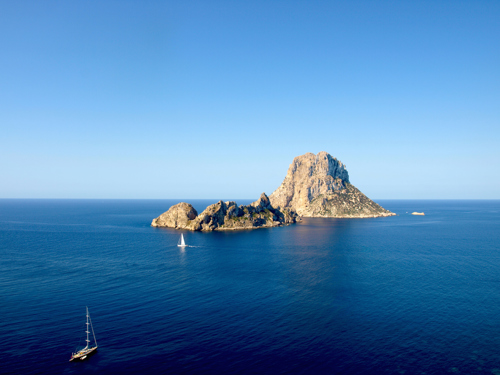 Kick your week off with a boat ride on the Mediterranean. Hidden away on the west coast of Ibiza, is the majestic rock island of Es Vedra. 400 metres in height, the island is home to a nature reserve, which is quietly tucked away behind thick pine trees and rugged rock formations.
On a misty day, the island is easily missed and looks like a scene straight out of King Kong, but a glorious day however, brings an ere of magic to the picture. To venture over to the island, take a ride to Cala d'Hort, which is the idyllic beach just opposite, where you'll find boat tours that trace the coastline and ride right up alongside the island.
Stop off at Sa Cova, a romantic bistro that's perfect for foodies who dream of the freshest seafood, served right from Mediterranean. Set in an old tranquil, whitewashed building and adorned with warm lanterns, bronze candelabras and heavy wooden tables, you'll feel like you're dining in a pirate's cove while being fed like a king.
History Hunt

Stray away from the cavernous coves and pine-topped mountain cliffs, by heading to Dalt Vila, or rather, the Old Quarter in the capital of Ibiza Town.
Declared a World Heritage Site in 1999 by Unesco, the area's centrepiece is its castle and towering, sandy-coloured walls, once home to Spanish royals during the 16th Century. The quarter's cobbled streets, cafes built right into cave walls and shops make this area the ideal stop-off for an afternoon's stroll.
Take a visit to the castle, which today stands as a monument to Spanish tradition, filled with artefacts of all kinds; from armoury and statues, to decadent table settings and hand-woven Persian rugs.
Though there are few spots to eat and drink in the ground's of the castle, it's a great idea to put together a packed lunch. If it's convenient, bring a small parasol and blanket along with you so you can set up camp in the shaded, green areas.
Adventure Is Out There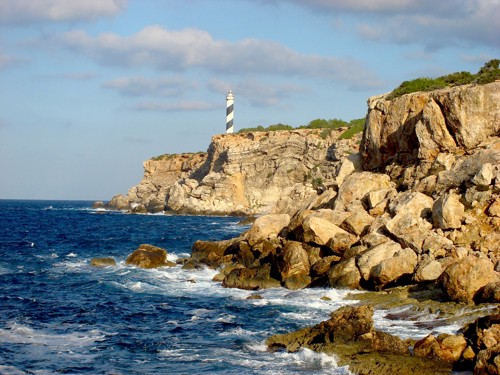 If you're ready for some adventure, mixed in with some fantastic scenery, then put on your walking gear and look out for the lighthouse on the hill at Portinatx.
Built in 1975, this active lighthouse is located amongst one of the most famous trails in Ibiza. Whether to walk, run or climb, this is a great activity for the sport-lovers among you and will offer both a challenge and an opportunity to snap some amazing pictures.
Begin the walk in Cala d'en Serra, a cliff top trail that offers panoramic views of the water below and wildlife unique to the area. The trodden path eventually leads you out towards the lighthouse where you can get a perfect shot of the 52m high tower, which is coated in pastel paint to look like a candy cane.
Set aside a full afternoon for the walk, as it takes on average of three hours to complete. We'd suggest timing it right to fit in with the sunset, as at the peak of the island where the tower sits, you'll get an unspoiled view of the sun going down and the unmistakable reflection below from the Med.
Also, located a short stroll from the lighthouse is restaurant, Jardin Del Mar – four words: seafood, cocktails, and happy hour.
Artefact Adventures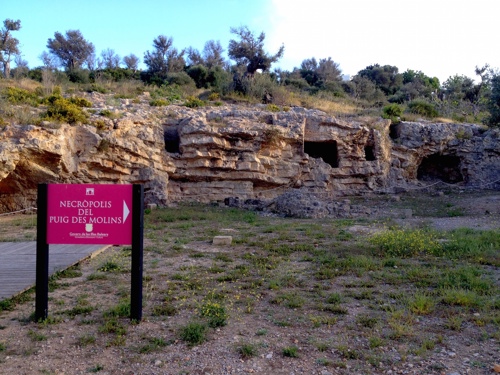 Dating back to 600BC, this ancient cemetery, Necropolis del Puig des Molins, based in the heart of Ibiza's Old Town, is a popular choice for a more unusual day trip out as it is recognised as the largest necropolis in the world.
Housing up to 4,000 tombs from all over the Mediterranean, the ancient cemetery was established by the Phoenicians at the end of the 7th Century. Today, it stands as a World Heritage site, displaying thousands of historical artefacts in its working museum.
The museum, which is free to attend, currently covers ancient burials, rituals of royal families and displays of jewellery, mirrors and painted ostrich eggs.
So if you want to learn about the Phoenician period, while enjoying some serious Spanish culture in its museum, then this is the ideal activity for you.
'Ibiza Henge'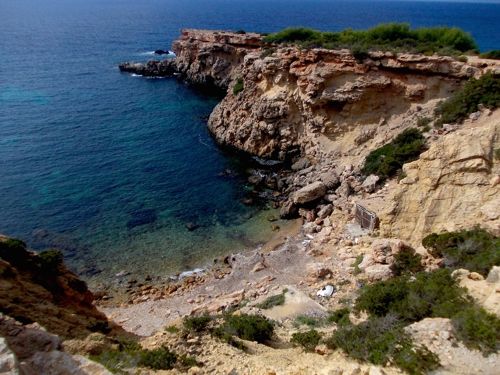 As well as being a destination dotted with beautiful beaches, historical monuments and stunning natural rock formations, this island is home to some amazing art installations.
The most unique of these designs is the aptly named, 'Ibiza Henge'. Comissioned by Cirque du Soleil founder, Guy Laliberte and created by Australian artist, Andrew Rogers, the design was inspired – as the name suggests – by the Stonehenge we have here in the United Kingdom.
Sat on the edge of the cliffs above Cala Llentia, the 13 Basalt columns have been arranged in a semicircular shape – when the sun hits these great objects, they are said to cast an incredible, complex shadow.
While enjoying the monuments themselves, take a few moments to soak up the view on offer at the cliff's edge, as these are sure to take your breath away. Certainly an 'Instagram moment'.
If you're after a getaway filled with history, culture and of course, some sunshine, then a visit to Ibiza should be near the top of your list!
To complete your stay in Ibiza, take a look at our stunning portfolio of Ibiza villas.