If you're looking to spend a week somewhere warm and full of character, then the resort of Vilamoura could be right up your street.
Situated in Southern Portugal, Vilamoura was constructed in the 1980s as a centre for golf, but over the years has developed a reputation as a trendy hotspot for fashionable holidaymakers. Whether you're looking for beaches, blue skies, a bustling bar or a boat trip, this location has something for everyone making it that dream getaway. 
Atmosphere for all ages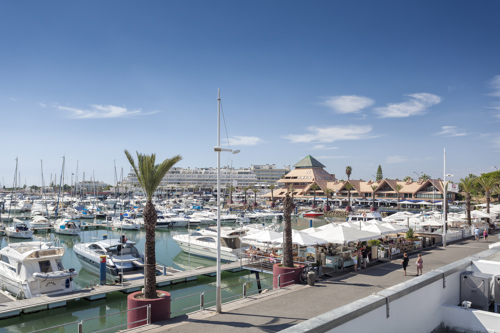 Vilamoura is at the height of elegance and vibrancy of the Algarve resort towns and provides alluring beaches, enticing restaurants and a superb tourist centre. Its picturesque marina is known as the place to visit during your trip, and is often likened to Monaco. It is definitely a place to be seen.
The EMO restaurant, ranked the 'fifth best restaurant in Vilamoura' is not one to miss if you're looking to experience some real Portuguese cuisine. There are countless other types of cuisine available, including the candlelit Julius Restaurant Wine Bar, serving Mediterranean fine dining. 
With its picturesque beaches, and surrounding restaurants, access to pharmacies and supermarkets offering delicious local produce, it's perfect for families and couples alike. If you're looking for the best spot to soak up some Algarve sun, beaches Praia da Falesia and Praia de Vilamoura, could be for you. The golden sand and turquoise waters will give you the chance to relax in tranquillity. For some retail therapy, head to the marina to explore the boutique shops on offer.
For visitors after some excitement or thrill-seeking adventure, book a boat tour for some action on the water. AlgarveXcite offers both dolphin and cave tours, water-skiing, Ringo boat rides, fishing and much more for a reasonable price.
Tee off for a round of golf or visit the slip 'n' slide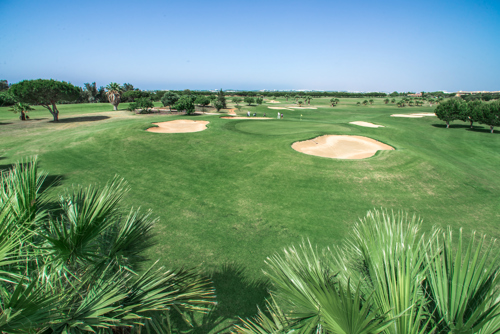 Having picked up a string of awards in last year, including World's Best Golf Destination at the 2017 World Golf Awards, the Algarve should be at the top of your list for sporting holidays.
In Vilamoura alone, there are six, stunning challenging golf courses to explore. Victoria, which is used every year for the Portugal Masters event on the European Tour, Millennium, Pinhal, Laguna, Vila Sol and The Old Course, which is the second oldest golf course in the Algarve. All courses are the traditional 18 holes, except Vila Sol, which has a mammoth 27 holes, so you'll have so much choice of where to tee off.
If golf isn't your thing, there are plenty of activities to keep the whole family occupied. Popular waterparks include Aquashow which is just up the road from the Vila Sol golf course. Children will be in for a treat as they spend the day zooming down slides and splashing in the water.
Visit the nearby neighbourhoods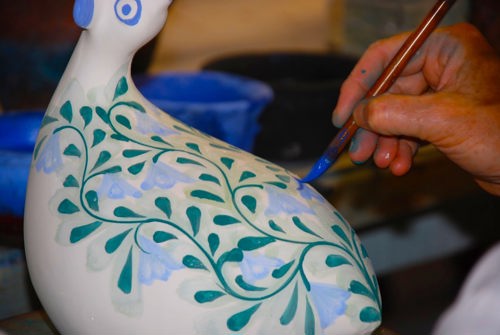 If you're searching for some history on your trip to Vilamoura, nearby towns Loule, Quarteira and Faro provide a unique look at the Algarve. With small family-run bistros, fresh seafood restaurants, handmade jewellery stores and food markets to die for, a visit to these towns will really give you an insight into life in this corner of the world. Our favourite spot to visit is Loule's Arabic-inspired market, filled with aromatic spices, pottery and hand-woven clothes.
Seasons of the year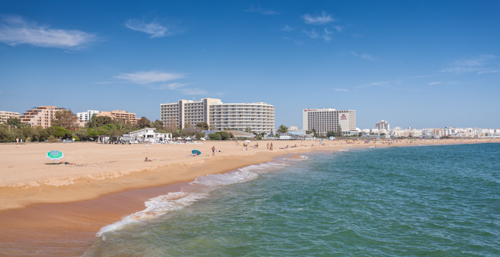 Vilamoura is known for its scorching summer weather. June through to September is especially hot which is perfect for sun-seekers looking to have the sun on their backs as they wander the streets or lie back for a sunbathe. Temperatures often reach around 28 degrees, and there is hardly ever any rain. During this period, the resort town is at its liveliest, with the restaurants and tourist locations open to visit for locals and visitors alike. 
Don't let a visit during winter put you off though, it's just as quaint during the cooler season. Main streets are decorated with delicate lights, and restaurants light up their windows with the flicker of candles, making it a delightful romantic stop for any lovebirds. The low season is also popular with golfers as the golf season runs differently to the tourist season. They can take advantage of the slightly cooler weather, although this means that the courses do get booked up quicker! Make sure you plan well in advance to be sure that you don't miss out during your visit from September to November.
If you're looking for somewhere off the beaten track to visit for New Years Eve, then a visit to the marina should definitely be on your list – you'll find barbecues and festivities, delicious food and fireworks. What a great way to round off the year. 
Why not complete your stay in Vilamoura by staying with us? Take a look at our portfolio of stunning villas in Vilamoura.