When choosing a location for your next holiday, the Algarve is unique as it really does have a bit of something for everyone.
Whilst many people take advantage of the stunning golf resorts which are set in beautiful surroundings, there's also something for those looking for a little less exertion, and a bit more relaxation.
Four Seasons Fairways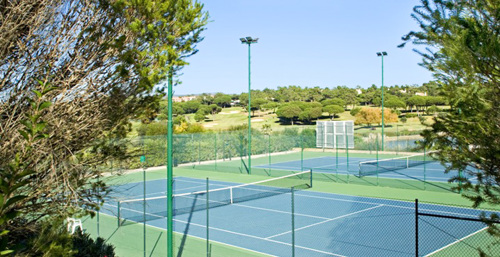 The Four Seasons Fairways resort in Quinta Do Lago is a golf resort with a difference. Not only has it recently revamped its clubhouse, mixing traditional Portuguese design with contemporary styles, it also have a wellness centre, which offers various services for when golf isn't on the cards.
What better way to unwind after a long day under the Portuguese sun than with an aromatherapy massage? Amélia and her team will take care of you, offering a range of professional treatments to suit your needs and requirements. If a massage isn't what you're after, then take some time out and relax in one of the saunas or steam rooms which are perfect for those of you who just want to take yourself away from the world for a moment.
If a new look and a pamper is what you're looking for, then be sure to check out the on-site salon. The salon is unisex and offers a range of services, so whatever look you are going for, you will get the VIP treatment here.
For those who want to stay active, but not necessarily be out on the golf course, Four Seasons Fairways also offers a range of fitness classes as well as a gym kitted out with lots of high quality equipment. Classes range from morning circuits through to Pilates and stretching. Whether you want to work out every day of your holiday, or just unwind before your flight home, Four Seasons Fairways has something for everyone.
Pine Cliffs, A Luxury Collection Resort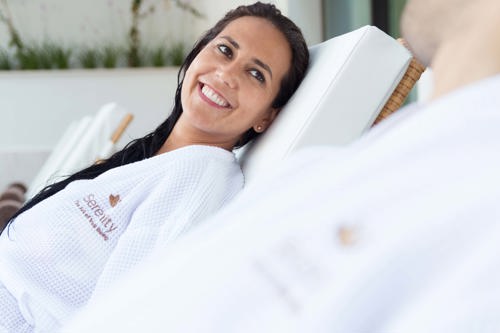 If you are looking to stay somewhere with magnificent views, then be sure to try out Pine Cliffs, A Luxury Collection Resort near Albufeira. Alongside a nine-hole golf course, tennis academy and a delectable selection of restaurants, Pine Cliffs also offers a world-class wellness experience at the Serenity – The Art of Well Being spa.
The state-of-the-art facility boasts hydrotherapy, experience showers, sauna with Himalayan salt, Kneipp therapy pool, ice showers, al fresco Jacuzzi, and a private gold-leaf Aurum Suite with its own treatment room, Jacuzzi, experience shower and relaxation area.  
Those seeking the ultimate escape should be sure to try a treatment in one of Serenity's 13 treatment rooms. For example, the signature Senses of the Algarve treatment takes you through a blissful journey of the surrounding region, with an exfoliating sea salt formulation straight from Guincho Beach, a body wrap with locally-produced carob and sense-stimulating Algarvian Orange Essential Oil. Ideal for those seeking solace from the stresses of everyday life, the Hammam and Turkish Bathing Rituals offer an indulgent moment of calm, promote sleep and relax aching muscles owing to overworked bodies and minds. 
Serenity offers a truly holistic wellness experience from a spa, fitness and nutrition perspective.  As well as access to the latest gym equipment at the Pine Cliffs Goes Active health club, guests can also try their hand a wealth of fitness activities such as Pilates, Zumba, Tabata training and capoeira martial arts with professional instructors.  In fact, different types of yoga are available for guests to try, from Hatha and Detox yoga to Ashtanga – the eight limbs of yoga.  Health-seekers can also enjoy wholesome fare at the dedicated healthy Zest Restaurant and have private consultations with the resort's resident nutritionist.
Serenity also offers dedicated wellness packages for those looking to take full advantage of this Portuguese paradise.  For example, couples can stay in a Pine Cliffs Ocean Suite with breakfast and enjoy a romantic couples' massage with the Celebration of Love! Package. 
Relax and unwind
However you wish to spend your holiday in the Algarve, you can be assured that if you spend your time at either of these resorts, you will be well looked after and come home feeling refreshed.
For more information, visit Four Seasons Fairways and Pine Cliffs on Instagram, or book your next holiday with us today.